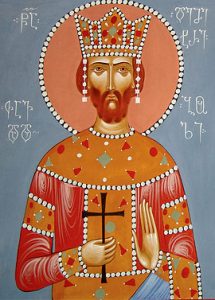 Saint Demetre the King, also called "the Devoted," was a great-grandson of Holy Queen Tamar.God sent St. Demetre many tribulations during his childhood, thus encouraging him in the Faith from an early age. Demetre was still an infant when the Mongols killed his mother, the pious Queen Gvantsa. His father, King Davit V (1258–1269), died when Demetre was just ten years old. When he reached the age of twelve, the royal court sent him to the Mongol ordu[1], to the ruler Abaqa Khan (1265–1282).[2] As the Georgians were under Mongol dominion, they asked Abaqa Khan to proclaim Demetre king, and their request was honored.Filled with virtue, King Demetre ruled the nation in wisdom and kindness. At night he would go out in search of the poor, the infirm, and the orphaned to distribute his wealth to them. The king took advantage of comparatively peaceful periods to build and restore churches and monasteries and to strengthen fortifications.

Many of King Demetre's lofty goals, however, were never realized, because the khan was constantly calling the Georgian soldiers to arms. A vast number of Georgia's finest soldiers fought and perished in the khan's battles. Soon Georgia was exhausted from battle and the sacrifice of her sons' blood in the wars of foreign nations. Internal strife began to tear at the Georgian people, and in desperation they began to pillage the lands and villages that belonged to their own Church.

During this difficult time, Demetre yielded to a temptation. Although already joined in a marriage of political convenience, he abducted Natela, the daughter of southern Georgia's ruler, Beka Jakeli. She bore Demetre a son, whom they named Giorgi. He would later be honored with the title Giorgi V "the Brilliant" (1314–1346).

After the death of Abaqa Khan, his brother, Ahmad Teguder (1282–1284), was proclaimed khan. In the second year of his reign, Ahmad's brother, Qongurdam, plotted to overthrow him but failed. A short time later, Abaqa Khan's son, Arghun (1284–1291), rose up against his uncle and seized the throne. Finally, Bugha Chingsang, the khan's prime minister, organized a plot against Arghun. On January 17, 1289, Bugha Chingsang was executed along with his fellow conspirators.

Demetre, who had been on friendly terms with the khan, was now summoned to the khan's ordu as a suspected member of the plot. King Demetre immediately surmised the reason for this summons: "The khan is very angry and has called me to him," he told his court. "I am certain he intends to do me evil, but my kingdom will lie defenseless before him if I do not go. How many Christians will die or become his slaves? How many churches will be laid to waste? Truly my life cannot be so valuable that I could live and bear this sin while many Christian souls are left to perish. It is my wish to go to the khan. God's will be done: if I am killed, I will be certain that my country is saved!"

The royal court tried with all its might to convince Demetre that it was foolish to go, meet certain death, and leave the country without a ruler. Catholicos Abraam alone supported King Demetre's decision and advised him, "If you sacrifice your own life for your nation, we, the bishops of this land, will bear your sins, and will pray to God that you be numbered among the holy martyrs. For the Lord Himself said, Greater love hath no man than this, that a man lay down his life for his friends (John 15:13). And if it is good for a man to lay down his life for just one neighbor, how profitable is it for a man to die for the sake of many?"

Upon hearing these words, the king rejoiced exceedingly and began to prepare for his journey to the Mongol ordu. He took with him Catholicos Abraam, a certain priest Mose, his son Davit, and several members of his court.

At the ordu the Mongols could find no fault in the young Georgian king, but they imprisoned him nevertheless. Then a group of Georgian faithful forced their way into the prison to see him and offered to help him escape. The king was deeply moved by their compassion, but nevertheless he told them, "I knew from the beginning the death I would suffer, and I offered my life for this nation. If I escape now, the nation will be destroyed. For what shall it profit a man, if he shall gain the whole world, and lose his own soul? (Mark 8:36)."

The khan ordered his execution. Fully prepared to meet death, King Demetre prayed fervently, received the Holy Gifts, and gave up his soul to the Lord. Those present witnessed a divine miracle: the sun grew dark and an ominous gloom enshrouded the whole city.

The holy relics of the Royal Martyr Demetre were guarded until the catholicos and the priest Mose secretly retrieved the body and, with the help of a group of Tbilisi fishermen, returned the king to his homeland. He was buried in Mtskheta, in the burial vault of his forefathers at Svetitskhoveli Cathedral.

O Holy Demetre, martyr and king, pray to God that our souls may be saved!
---
[1] Ordu: the military camp and headquarters of the Mongols. This particular camp of the Ilkhanid Mongols lay in Mughan of Azerbaijan.
[2] Abaqa Khan was ruler of the Ilkhanid Mongols (descendents of Qubilay Khan's brother Hulegu).
For further information on the book THE LIVES OF THE GEORGIAN SAINTS by Archpriest Zakaria Machitadze contact St. Herman Press:
St. Herman Press, P.O. Box 70, Platina, CA 96076
http://www.stherman.com/catalog/chapter_five/Lives_of_the_georgian_saints.htm