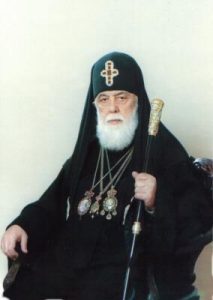 His Holiness and Beatitude Catholicos Patriarch of All Georgia Ilia II (civil name Irakli George Gudushauri-Shiolashvili) was born on 4th of January 1933 in Vladicaucasus. His parents were originated from Georgia, particularly Kazbegi Region. His father – George Simon Shiolashvili was from Village Sno, and his mother – Nathalia Josef Kobaidze was from Village Zion. They bought a house in Vladicaucasus in 1927. Future Catholicos Patriarch was born at that house in Vladicaucasus. Three-day old baby was baptized on Christmas at Georgian church and was named Irakli in honour of King Erekle II.
In 1952, Irakli Shiolashvili graduated from Public School No 22 in Vladicaucasus, and enrolled to Moscow Theologian Seminary. Later, he continued his studies at Moscow Theologian Academy.
In 1957, second-year student of Theologian Academy Irakli Shiolashvili was admitted to the veil upon blessing by Catholicos Patriarch of All Georgia Melkisedek III and was named Ilia in honour of Prophet Elias. Soon, he was consecrated celibate priest and monk in 1957.
Monk Ilia graduated from Moscow Theologian Academy in 1960. He was asked to continue scientific-research activity but because of clergy shortage he decided to come back to Georgia and was appointed to serve at Batumi Cathedral. Due to his faithful deeds monk Ilia was consecrated Father Superior in 1961, and soon he became Archimandrite. On 26 August 1963 Archimandrite Ilia was consecrated Bishop of Shemokmedi Diocese upon blessing by His Holiness and Beatitude Catholicos Patriarch of All Georgia Efrem II. From 1963 to 1972 he was the first Principal of Mtskheta Theologian Seminary, the only theologian educational centre at that time in Georgia.
In 1967 Bishop Ilia was moved to Abkhazia Diocese. In 1969 he was consecrated Metropolitan. On 9 November 1977 after death of His Holiness and Beatitude Catholicos Patriarch of All Georgia David V the Holy Synod decided to ordain him the Patriarchate Throne. And, on 23 December 1977 Metropolitan Ilia was elected Catholicos Patriarch of All Georgia. Enthronement ceremony was held on 25 December 1977. The Patriarchate was named Ilia II (Ilia I chaired Georgian Church 1600 years ago, in 390-400).
During 1978-1983 Catholicos Patriarch Ilia II was President of Ecumenical Church Council. His Holiness and Beatitude has been awarded highest orders and awards by Ecumenical Patriarchate, also patriarchates of Antiochus, Jerusalem, Alexandria, Russia, Georgia, Greece, Bulgaria, Romania, Poland, Czechoslovakia, and nearly all orthodox churches. New York Theologian Academy awarded Doctor of Theologian to Catholicos Patriarch Ilia II. In 1997 Crete Theologian Academy elected His Holiness an honourable member. In 1997 Catholicos Patriarch Ilia II was elected Full Member of World Information Science Academy at UNO. In 1998 St. Tikhon's Theologian Seminary of American Orthodox Church awarded Honourable Doctor of Theologian to Catholicos Patriarch of All Georgia Ilia II.
In 1988 upon initiative and leadership by His Holiness and Beatitude Mtskheta Theologian Seminary was moved to Tbilisi, and there was established Tbilisi Theologian Academy and Seminary there. Theologian schools and seminaries have been opened in different parts of Georgia. Here should be mentioned theologian seminaries in Batumi, Akhaltsikhe and Kutaisi, also Theologian College and lyceum in Khulo, and lyceums in Tbilisi, Batumi, Zestafoni, etc. After great many centuries Gelati Theologian Academy and Gelati Scientific Academy were reopened under leadership of Georgian Church.
By blessing of His Holiness and Beatitude there have been published the Bible in Modern Georgian Language, different theologian collections, brochures, books, magazines, calendars of three different types, newspapers. There have been founded an architectural centre, departments of folklore handicrafts, missions and evangelization, also publishing centre and relics researching and protecting centre, departments for relationships with armed forces, foreign and financial-economic affairs, info-service, youth's centre "DZLEVAI", humanitarian service, pilgrimage department, etc. at Georgian Patriarchate.
Number of dioceses of Georgian Church has been raised from 15 to 33 for last twenty years. Nowadays there are 53 acting monasteries, and over 1000 clergy. New saints have been canonized. There was built the greatest church in Georgia Holy Trinity Cathedral.
All the above mentioned is just small part of greatest deeds exercised by His Holiness blessing and efforts.
Translated by Ketevan Tadiashvili.