Peace be with you! 🕊
May the Lord bestow upon each and every one of you His divine grace and mercy for your donations and offerings to the Church of the Iveron Icon of the Mother of God in Toronto at this difficult time. I am grateful for your contributions and sincerely thank you from the bottom of my heart.
Please know that your names are mentioned in every liturgy and prayer. There have been many attempts to impede and halt church services but we continue to worship God and offer spiritual nourishment to our parish and community. Even though parishioners have not been able to physically attend mass and prayers during this difficult time of quarantine, church services have not stopped. Be assured that the Church of the Iveron Icon of the Mother of God in Toronto will without fail continue services and pray to the Lord for your salvation and collective wellbeing. I hope the time will come soon when we can once more worship together, in unity, and take part in Divine Mysteries.
As you are aware, the Georgian church abroad is not only a place of worship but also a centre of flourishing Georgian culture outside of Georgia. As part of our Church in Toronto, we have a Sunday school, dance and music ensemble "Iveron", and among other things, we teach and pass onto our immigrant kids the Georgian language, religion, history, geography, traditional crafts, and the wonderful ancient dancing and musical traditions. Apart from teaching, we also organize trips in nature, concerts and various events, all of which require our utmost effort and dedication to preserve and nourish the spirit of Christian Orthodoxy and Georgian language and culture in our community and among our youths. We consistently work hard to establish and expand this cultural presence as part of our Church. Since we are the only Georgian Church in Ontario, this is where the Georgian diaspora comes together.
Today I would like to kindly remind you that the existence and the strength of our Church directly depends on your contributions. Those of you who have hope in our Lord and take to heart our Church and community's well being, please consider donating through the various means available to you, including credit card, PayPal, and bank or Interac E-transfer.
Donations can be done by following methods:
1. PayPal- All donations will be transferred for purchasing and renovating of new church for Iveron Icon.
Payments can be done with any credit cards.
For Donation by Credit Card in PayPal please click this link or Image below
You can also make this as monthly donation if you would like to donate on regular bases.
We issue tax receipts for all donations.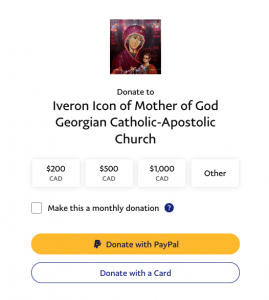 2. INTERAC:
You can also use e-transfer to donate. Here are some instructions https://www.interac.ca/en/consumers/products/interac-e-transfer/
and you would donate to following email address: donation@torontomrevli.ca
3. Using Bank direct transfer:
Church membership or month to month operations account:
The Iveron Icon of the Mother of God
TD Canada Trust
Savings Account
Institution # 004
Transit # 18002
Account # 5242344
Church renovation funds account:
The Iveron Icon of the Mother of God
TD Canada Trust
Savings Account
Institution # 004
Transit # 18002
Account # 5227299