Georgian Orthodox Church Bishop Saba in North America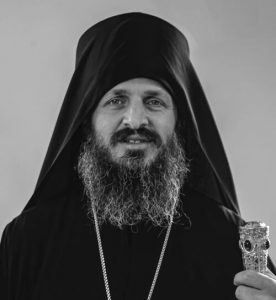 Bishop Saba, known in laity as Lasha Intsikvreli, was born on June 22nd, 1981, in the Ozurgeti municipal district. With the blessing of then Archbishop Joseph, he attended Saint John the Divine Theologian Seminary in Batumi. During his studies, he became interested in monastic life and lived as a novice at Makhera Monastery in Cyprus. In 2000, following the completion of his seminary training, he left for Serbia with the blessing of Catholicos-Patriarch Ilia II and Metropolitan Dimitiri (Shiolashvili) to continue his education.
2001-2007 studied in Belgrade at the University of Saint John the Divine, the faculty of theology. In 2008, he returned to Georgia. Metropolitan Dimitri ordained him as a novice and named him Lasha-Giorgi. He was also appointed as a secretary of the diocese.
2009, June 29, Lasha-Giorgi took his monastic vows and became a monk, whereby he was given the name Saba. On July 5th of the same year, Monk Saba was consecrated as a Deacon-Monk.
2010 under the blessing of His Holiness and Beatitude Ilia II, Deacon-Monk Saba relocated to the United States.
2010 October 26, Metropolitan Dimitri (Shiolashvili) ordained Deacon-Monk Saba as a Priest-Monk and he was assigned the Saint King David Aghmashenebli Monastery and Saint George Parish in the state of Pennsylvania.
Bishop Saba is the first clergyman in the history of the Georgian Orthodox Church who was ordained on the continent of North America. For his faithful services, on May 22, 2011, Metroplitan Dimitri granted Priest-Monk Saba the title of a Hegumen, or an Abbot.
2013 he was appointed as a Abbot to Nativity of Virgin Mary Church in Brooklyn.
2013 February 9, Father Saba was elevated to the rank of an Archimandrite.
2013 October 13, he was given the right to carry a crosier and a mantle.
2014 June 3, with the decision of the Holy Synod of the Georgian Orthodox Church, Archimandrite Saba was appointed as the Bishop of North America.
2014 June 22, with the blessing of the Catholicos-Patriarch of all Georgia Ilia II and the members of the Holy Synod, Archimandrite Saba was consecrated as a Bishop at the Svetitskhoveli Cathedral.
Translated by Ketevan Tadiashvili.